Rum Cherry Tree
Price:&nbsp
$8.95
---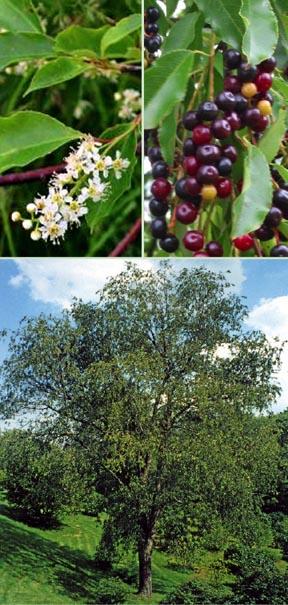 Description:
Prunus serotina
Other common names: black cherry, rum cherry, wild cherry

Shipping Height: 2-4 feet.

Mature Height: 50-60 ft. It is a moderately long-lived tree, with ages of up to 258 years known.

Soil / Climate: Grows in moist, rich soils, as well as light, sandy soil. Zones: 4-9

Notes: Trees are hardy, fast growing, and long-lived. Leaves are oval with thinly pointed tips. Autumn colors are yellow to orange-red. Flowers are small and white. Fruit bears every 3 to 4 years. Fruit is dark purple, sweet and edible.

Fragrant flowers
bloom in May. Has an almond-like odor when a young twig is scratched. Farmers are recommended to remove any trees that fall in a field containing livestock, because the wilted leaves could poison the animals. The fruit of Prunus serotina is suitable for making jam, cherry pies. They are also a popular flavoring for sodas and used in many ice creams, cooking and smoking foods. Cherry timber is considered the Premier timber for cabinetry.

Wildlife: Fruit is eaten by the mallard, turkey, ruffed grouse, bobwhite, pheasant, many woodpeckers, and a wide variety of others.

Additional information on Prunus serotina can be found by clicking on the following link: USDA / NRCS PLANTS Database.


GROWING ZONES: 4-9 / SUN EXPOSURE: Full sun

Can't Ship To:
AK, CA, HI

---
Legal Policy:
GET FREE TREES WITH THIS ORDER - GO TO: www.online-tree-farm.us/freetreeoffer
Return Policy:
Items must be returned within 14 days .
Refund will be given as Merchandise Credit.
Refund policy details:
Healthy Delivery Guaranteed - SEE DETAILS: http://online-tree-farm.us/growersguarantee
Shipping:

Destination: United States

CUSTOM
$10.98 Flat Rate + .75 ea - SEE DISCOUNT BELOW
$10.98
$0.75

Handling:
$0.00
Insurance:
Not Offered (Domestic)