Staghorn Sumac Tree
Price:&nbsp
$8.95
---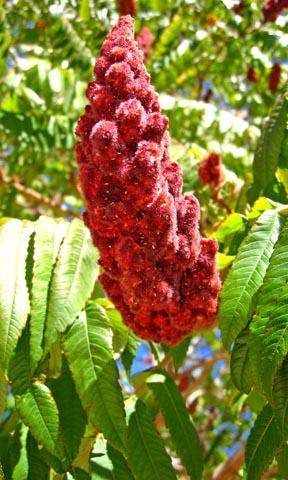 Description:
Rhus typhina
Other common names: velvet sumac, hairy sumac.

Mature Height: 15 ft

Soil / Climate: Grows well in low nutrient soils, sun and shade. Staghorn sumac grows in gardens, lawns, the edges of forests, and wasteland. It can grow under a wide array of conditions, but is most often found in dry and poor soil on which other plants cannot survive. Tolerates a wide range of climates.

Notes: Long slender leaves change from bright green to orange-red in the autumn. Flowers are dense yellow-green and fragrant. Fruit forms in dense, bright red, compact clusters, and persists thoughout winter. Sumac will spread from root suckers. Some beekeepers use dried sumac bobs as a source of fuel for their smokers. All parts of the staghorn sumac, except the roots, can be used as a natural dye. Branches have a hairy texture.

Wildlife: Fruit is eaten by turkey, ruffed grouse, bobwhite, pheasant, and many others.


Item #
L106
0-LG
Shipping Size: 2-3 Feet -
GROWING ZONES: 3-9 / SUN EXPOSURE: Full to partial.

Can't Ship To: AK, HI

---
Legal Policy:
GET FREE TREES WITH THIS ORDER - GO TO: www.online-tree-farm.us/freetreeoffer
Return Policy:
Items must be returned within 14 days .
Refund will be given as Merchandise Credit.
Refund policy details:
Healthy Delivery Guaranteed - SEE DETAILS: http://online-tree-farm.us/growersguarantee
Shipping:

Destination: United States

CUSTOM
$10.98 Flat Rate + .75 ea - SEE DISCOUNT BELOW
$10.98
$0.75

Handling:
$0.00
Insurance:
Not Offered (Domestic)